About Us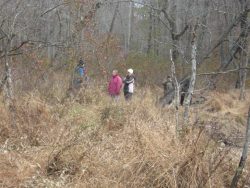 Beaver Meadow of the Pomonkey Forest easement
The Conservancy for Charles County is the only qualified local land trust operating exclusively in Charles County, Maryland.   We are dedicated to preserving Charles County's rural character and natural resources– its open space, farmland, forests, wetlands, natural habitats, and abundant historic assets.Founded in 1996 by local residents, we are a tax-exempt charitable 501(c)(3) organization.   We are membership-based, all-volunteer and depend on dues, donations, and grants to fund our preservation and education efforts.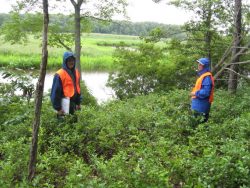 Monitoring an easement on Nanjemoy Creek
We are affiliated with the Land Trust Alliance, a national umbrella corporation of land trusts, and have adopted its Standards and Practices of governance, accountability, ethical conduct, compliance with laws, ensuring sound transactions, effective management of preservation and stewardship programs, financial stability, and proper record-keeping and permanent protection.
We partner with the Maryland Environmental Trust, a quasi-public land trust in the Maryland Department of Natural Resources.
info@conservecharles.org
(301) 932-5714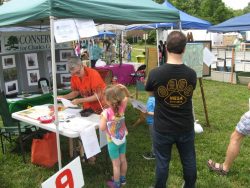 2019 Artsfest at the La Plata Town Hall lawn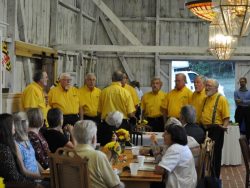 2019 Annual Dinner at Chandler's Hope
BOARD OF DIRECTORS:
Walter H. (Hal) Delaplane, President
La Plata
A. Hugh Williams, Vice President
La Plata
Ellen Cline, Secretary
Indian Head
Jacqueline Lawhon
Indian Head
John Posey
La Plata
Nancy Schertler
Newburg
Rick Viohl
Nanjemoy
Chris Zabriskie
Port Tobacco
Charles County Landscapes
Periodical Newsletter