Stewardship
There is more to a conservation easement than drawing it up and getting it recorded. Now the focus shifts to making sure that it is upheld, not just for a short time but far into the future. This job comes under the Conservancy's stewardship program. It is a continuing program, and it operates on a cooperative basis with the landowner.
Here is how it works. On a periodic basis (usually every two years) the Conservancy contacts the landowner to arrange visiting the property protected by a conservation easement. A stewardship team carries out the visit, noting any changes that may affect the terms of the easement. Any needed correction can ordinarily be handled with a simple request.
With the passage of time, every property inevitably comes into different ownership. Because a conservation easement is perpetual and applies to all future owners, the Conservancy gives special attention to familiarizing new owners with the protective requirements.
The volunteers who serve on the stewardship team enjoy meeting landowners and seeing how successful conservation easements are in preserving special places.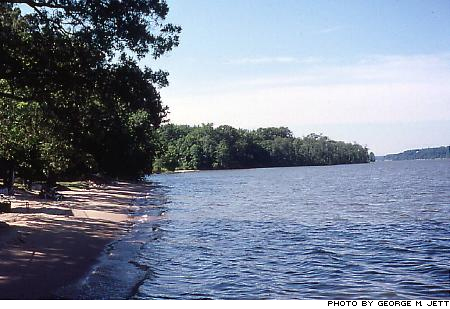 Conservancy-protected shoreline on the Potomac